About the Reiselust
The tourism fair in Bremen
Boost your sales!
The 18th Reiselust will take place from 3rd to 5th November 2023. Simultaneously, the fairs CARAVAN Bremen and FISCH&FEINES will attract even more visitors to Bremen. In 2022, some 38,129 visitors flocked to these three trade shows.
You too can present your region and offers to potential customers – exhibit at the ReiseLust in the MESSE BREMEN venue!
For more information, use our contact form. You can also call us directly at ReiseLust if you have any questions:
+49 (0)421 3505 536.
• FISCH&FEINES
(MESSE BREMEN)
• ReiseLust
(MESSE BREMEN)
• CARAVAN Bremen 2022
(Deutsche Messe GmbH)
number of visitors (total)
Facts & Figures from ReiseLust 2022
… of exhibitors are satisfied or extremely satisfied with the achievement of their main trade fair objectives.
… of exhibitors would like to or will definitely exhibit again at the next ReiseLust.
… of exhibitors would recommend the trade fair.
Exhibitors' Voices 2019
"On Friday and Saturday, the volume of and interest from visitors was sensational. We had great conversations with very friendly locals from the Bremen area who really took the time to learn more about the Lüneburg Heath. In the past, we always attended the trade show as part of a group of exhibitors. By ourselves, we are definitely attracting more attention, and we will come back for sure! Given the great combination of topics around travel, food and RVs, as well as the interesting framework program for exhibitors and the excellent support provided by the trade show team, we can unequivocally say that ReiseLust is the best of the small trade shows!"

"We have been exhibiting at ReiseLust for 15 years now, and it keeps getting better every year. The team is very organized, always friendly and ready to help. On the technical side, too, everything runs without any problems, so that we can arrive and set up without any worries. This is the total package here, and the Exhibitor Evening is definitely a highlight as well. We already filled out the registration form for next year right there and then."

"This trade show is amazing! The whole package is simply great. Especially Saturday was phenomenal for us as this year's partner region. This is likely attributable to the great advertising throughout the city, which is also something that our regular guests have commented on positively. We love coming to Bremen and will be back again next year for sure!"

"The ReiseLust trade show was very successful for us as this year's partner country. Especially Saturday was a huge hit. All catalogues are gone and every single partner is happy. The organisational support provided by the trade show team was fantastic. There was always someone there to help us when we had questions so that we were able to put together an awesome presentation."
Becoming a ReiseLust exhibitor is easy!
Do you want to find out more about ReiseLust, book a stand or receive a non-binding offer? Simply follow our three-step procedure!
Step 1: Get information and contact us
Why exhibit at ReiseLust? Find out for yourself by checking our ReiseLust fact and figures. We'd also be happy to advise you personally, answer all your questions about taking part and make you an offer tailored to your requirements.
Simply contact us!
Or submit your questions using our
Contact form
.
Step 2: Booking
New: Book online via our exhibitor portal.
It's easy to submit your stand and location requirements via our exhibition software. You can also use the program to register co-exhibitors and order technical and other services.
Have you already exhibited at ReiseLust in the past, or do you receive regular information from us? Great - then you're already in our system. Please click "Forgotten your password?" and create your personal access data using your e-mail address.
Would you like to join the trade show for the first time and haven't yet been contacted by us? Please register as a new exhibitor by clicking "New registration".
---
The system is also new for us, so we'd be happy to receive feedback from you if you have any problems or feel that something is missing. This is how we can continuously improve! Do you have any other questions or require further help? Please feel free to contact us at any time.
Step 3: Services
We offer you reliable and expert services covering all aspects of your trade show presentation.
Create your own stand design or choose from our extensive range of stand options. In good time before the event, we will send you the link to our new online portal for technical and other services.
If you have any questions, please do not hesitate to contact our
technical exhibitor service
directly.
Registration & Prices
Book your stand:
Row Stand
100 € /m2
Corner Stand
106 € /m2
Head Stand
112 € /m2
Block Stand
118 € /m2
Net prices plus AUMA fee of € 0.60 per m²
Exhibitor Service
We offer a reliable and competent service for everything to do with your trade fair appearance. Design your stand according to your own ideas or choose from one of our versatile stand construction options. For the services you require, please see our service manual or contact our
technical exhibitor service
directly.
Hygiene Concept
Due to the current situation, we have developed a comprehensive hygiene and safety concept that guarantees the highest possible level of safety for exhibitors and visitors.

You find detailed information here.
Become our partner
Are you interested in exhibiting at ReiseLust and would like the greatest possible presence? Then apply now as a partner country or partner region of ReiseLust!
Use this opportunity to present yourself to your audience in a very special way: As a partner country or partner region, you can enjoy many advantages beginning with the exposed location of your stand. Your name and logo will be integrated in all ReiseLust advertising, various press releases, radio spots and in the editorial reporting.
Curious? Then show us something about your country or region:
Which attractive stand do you want to inspire your visitors with? Which delicacies from your local cuisine will convince your hungry guests? And with which daily program do you entertain your audience in your very own way?In order to present your destination perfectly in the media, we would need some enticing information and photos that make you want more.
Just get in contact with us - we look forward to your detailed application!
The medium-sized hall is connected to the Congress Centrum Bremen by escalator. It is a popular venue for industrial exhibitions accompanying congresses, for example.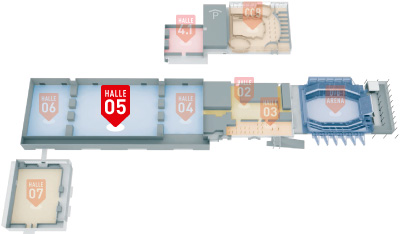 Our largest hall. On an area of 1 hectare there is space for the really big show and about 300 exhibitors.
Public transit:
Comfortably to the fairground with 3 bus lines:

There are several bus and tram lines that will take you to the exhibition grounds in comfort:

Bus line 24 (stop "Blumenthalstraße"), bus lines 26 and 27 (stop "Messe-Zentrum").

Tram lines 6 and 8 (stop "Blumenthalstraße").

Further information at BSAG (Bremen public transit company).
Arrival by train:
From Bremen Central Station it is only a short 3-minute walk to the exhibition centre.
Train connections every hour.
Almost 50 ICE and IC/EC connections daily.
Time table at DEUTSCHE BAHN.
Arrival by car:
The exhibition centre is easily accessible from motorways A1, A27, and A28.
It is only a 10 minute drive from the motorway exit to the Bürgerweide car park with 2,500 parking spaces.
Once you exit the motorway, simply follow the signs for Centrum / Messe Bremen.
If you are using a navigation system, please enter the following address: Theodor-Heuss-Allee, 28215 Bremen.
Parking fees:
The maximum daily parking rate for passenger cars at the Bürgerweide car park is € 6.00. Further information at BREPARK.
Arrival by plane:
The Bremen City Airport is only 7 kilometres away from MESSE BREMEN and the city centre.
There is a tram stop right in front of the airport and tram line 6 (direction "Universität") will take you to the exhibition grounds (stop "Blumenthalstraße") in about 18 minutes.
Further information at Bremen Airport.
Your overnight stay in Bremen
Would you like to treat yourself to a weekend in Bremen? The exhibition grounds are within easy reach from the Bremen city centre with its historic market square as well as the Bremen City Hall and the Bremen Roland, both of which are UNESCO World Heritage Sites.
In order to help you find suitable accommodation,
here
is a selection of hotels and private lodgings.
Should you be unable to find what you are looking for, you can search for other options at
www.bremen-tourism.de
. If you prefer to call, you can reach the service team of the Bremen Tourist Information Centre by phone at +49 (0)421 – 30 800 10.